Wednesday 5 February 2020
On February 4th & 5th PLAY International together with its partner the Bulgarian Sport Development Association organized and hosted the second steering committee for the Erasmus+ Sport funded project PLAY'In Together. 
Sport development and education professionals of 8 of the consortium member organizations representing the 7 partner countries of the project attended the committee to connect and exchange over project activities running since January 2019. The committee took place in the Bulgarian capital of Sofia, within the premises of the Maria's World Foundation Day-Care center empowering people with disabilities with vocational skills and employment opportunities.
 Mrs. Florence Robine, Ambassador of France to Bulgaria and Mr. Petyo Kanev, Director of the Bulgarian Erasmus+ Agency opened the steering committee and reinstated their commitment to support greater inclusion of the most vulnerable in Bulgaria, and their interest in the innovative socio-sport solutions the PLAY'In Together project develops and spread on a European scale.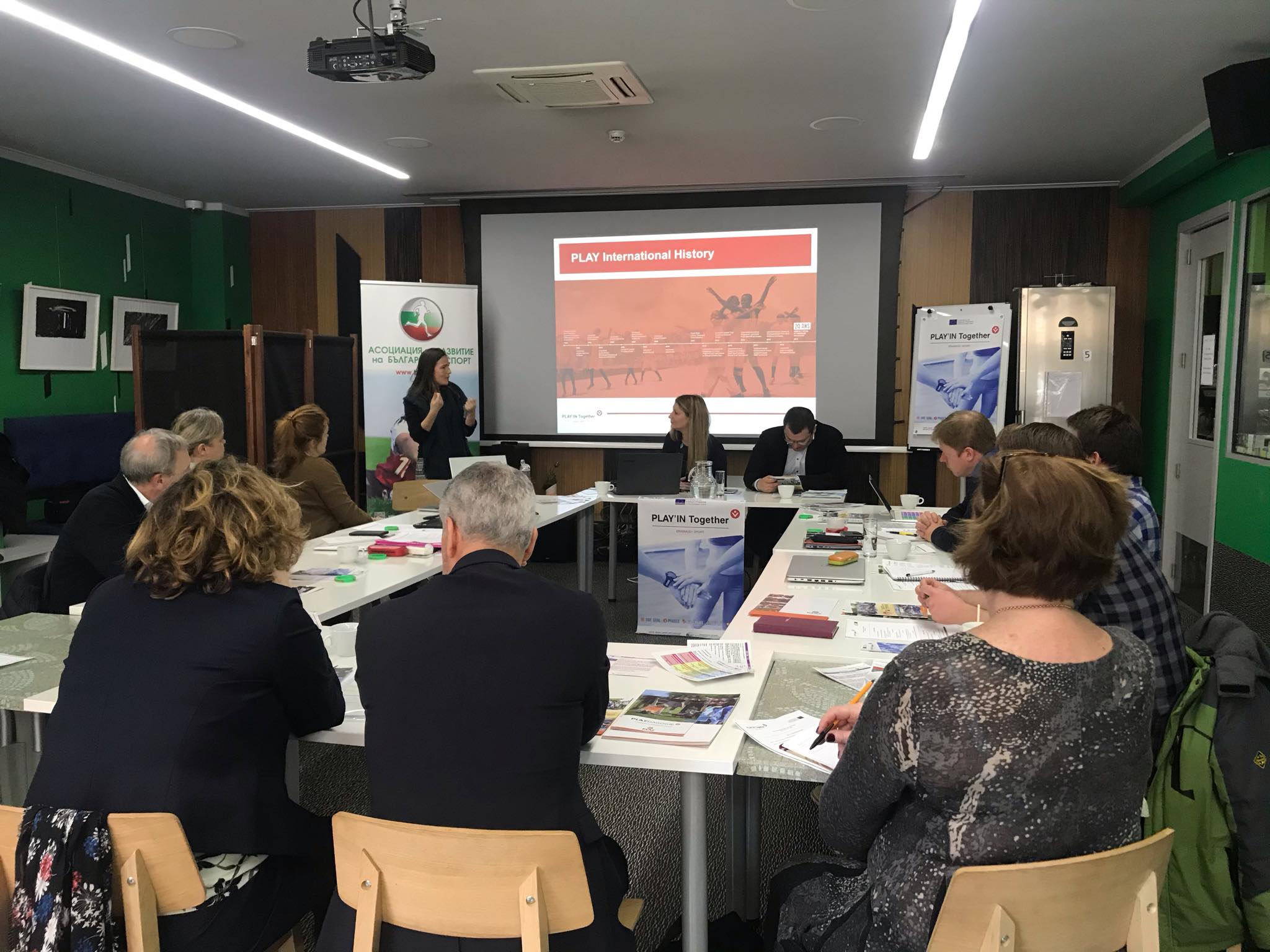 In 2019 the project has shown significant progress with currently over 110 non-formal and formal education professionals engaged in deploying socio-sport sessions promoting a change of mindset on disabilities for the benefit of over 6,200 children aged 6-12 across 4 countries.
The pedagogical content developed consists of 6+ Playdagogy and Education Through Sport sessions which are largely infused with Olympic and European values to foster a mutual ground for cooperation, understanding and inclusion at European-level.
Partners gathered this week to reflect on achievements, identify and share best practices, among which the Académie de Créteil's production of a guidebook entitled "The Essentials of Disability in Physical and Sport Education", a document produced by a collective of PE teachers in France and aiming to support their peers in-country and beyond.
Partners will now pursue with the implementation of the project's phase 2 targeting children with disabilities to build their psychosocial skills through sport and play. The next gathering is scheduled to take place in Pristina, Kosovo in July this year to launch the third and last phase of the project.