Thursday 5 September 2019
To mark 20 wonderful years of work in education and peace through sport, PLAY Kosovo wanted to organize a wide range of activities to reconnect with and thank all of our stakeholders. The goal: to celebrate all of our many achievements since 1999 and to find a moment to reflect on how to make the next 20 years even better! 
      Travelling socio-sport activities
To make sure that the wider region beyond Pristina benefitted from the celebrations, three sessions of socio-sport activities were organized in the localities of Fushë Kosovë/Kosovo Polje, Plemetinë/a, and Shtime/Štimlje.
115 children, many from minority communities, coming from multiple localities participated in a series of PLAY's specialist socio-sport activities. The agenda for the day: raising awareness on gender equality, disabilities and violence at school.
     20-hour marathon of socio sport activities
On 26 September, in Pristina, PLAY organized a 20-hour socio-sport marathon! Each hour symbolized a year of the NGO's work in Kosovo. Numerous activities were held from midnight to 8pm at the Probasket Hall of Dardania (during the night!) and Zahir Pajaziti square (during the daylight hours!). More than 150 parents and children joined the festivities by participating in running, basketball, aerobics, yoga, rugby, frisbee and football activities!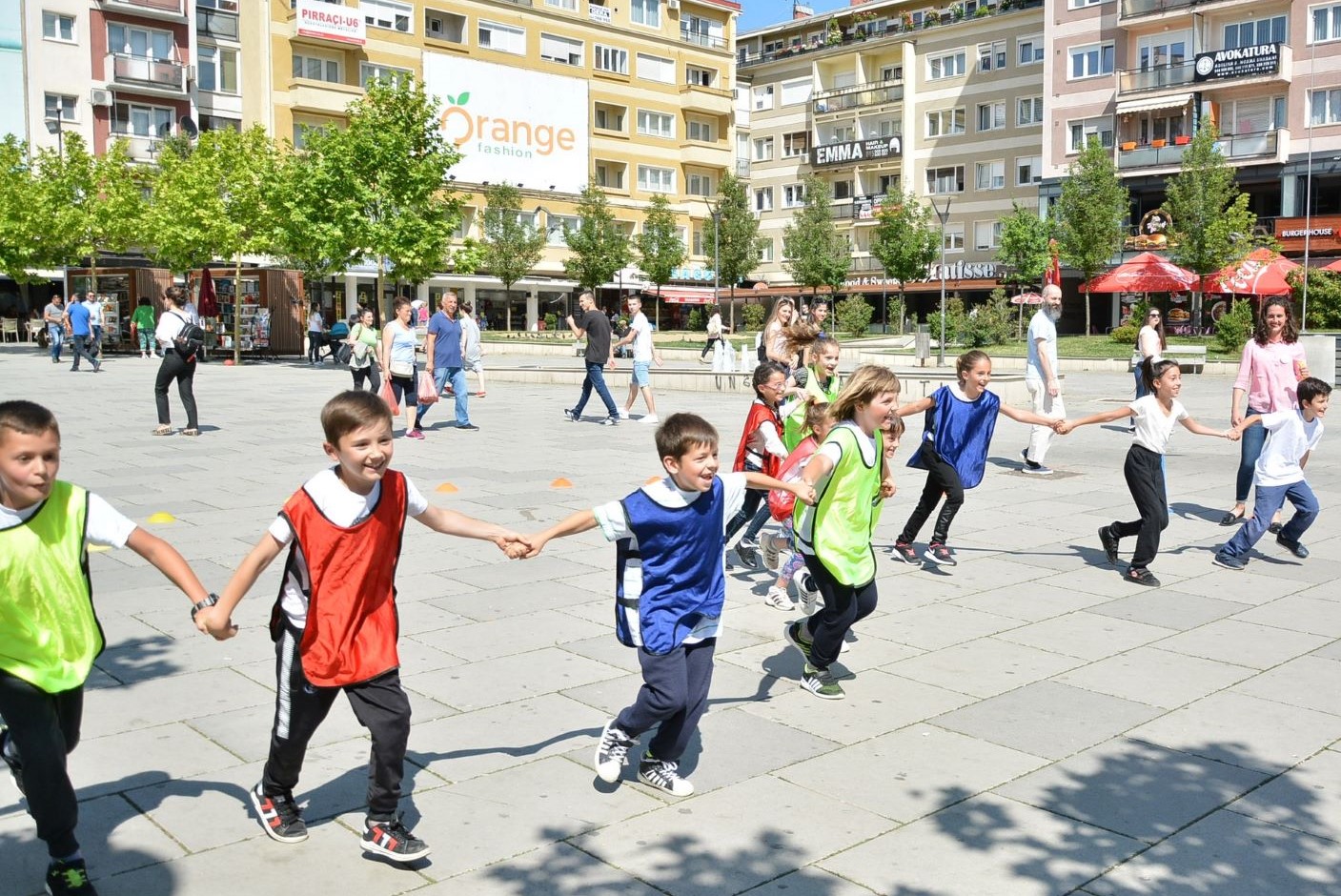 To close the event, staff animated a series of cooperative games that are commonly used in PLAY's work around Kosovo and the Western Balkans. This gave an insight to the participants on what kind of impact sport activities can have when used as a tool for education and social-change.
During the past 20 years, PLAY International Kosovo has changed countless lives. To capture a snapshot of the NGO's impact, the team went out to collect testimonies from beneficiaries, participants and other stakeholders who lives have been changed by PLAY's work.

Ten stories captured the perspectives of different ages, genders, communities and backgrounds! They were shared via social media and also exhibited as stand-up banners to a group of guests attending the November launch reception of PLAY's most ambitious ever project: Ejo.
These celebrations were made possible with the generous support of the French Embassy in Kosovo.