Thursday 29 April 2021
After a 1st edition in October 2020, the charity and connected sporting challenge Vertigo made its return from April 06 to 25. From Paris to Bujumbura to Ziguinchor, 530 participants from 14 companies took part in the Vertigo Challenge, the connected, united, fun, sporting and unifying experience initiated by the NGO PLAY International.
Alongside the 4 sponsors of the event, Yannick Borel, Emilie Gomis, Pascal Martinot-Lagarde, and Allison Pineau, they covered 97,713 kilometers by walking, running or cycling - the equivalent of almost 2.5 times around the world, to show their support for PLAY International.
Sweat and smiles but above all a lot of solidarity: more than € 55,000 was collected to help PLAY International develop its sports education programs in Burundi, France, Liberia and Senegal.
Our 4 sponsors send to all participants a huge congrats and thank you. Discover their message in video
the CHALLENGE iN key figures 
the challenge Vertigo, it is: 
530 participants  
3 weeks of challenge 
100% support for PLAY 
the challenge Vertigo it is also a collective sporting feat : 
97,713 km covered, almost 2.5 times around the Earth
23,325 km by bike, 7 times the Tour de France
18,007 km in running, the equivalent of 429 marathons
80,545,456 steps or nearly 6 times the Great Wall of China
Discover the infographic report
ranking 
The 530 committed participants proudly defended the colors of their companies to support the actions of PLAY International!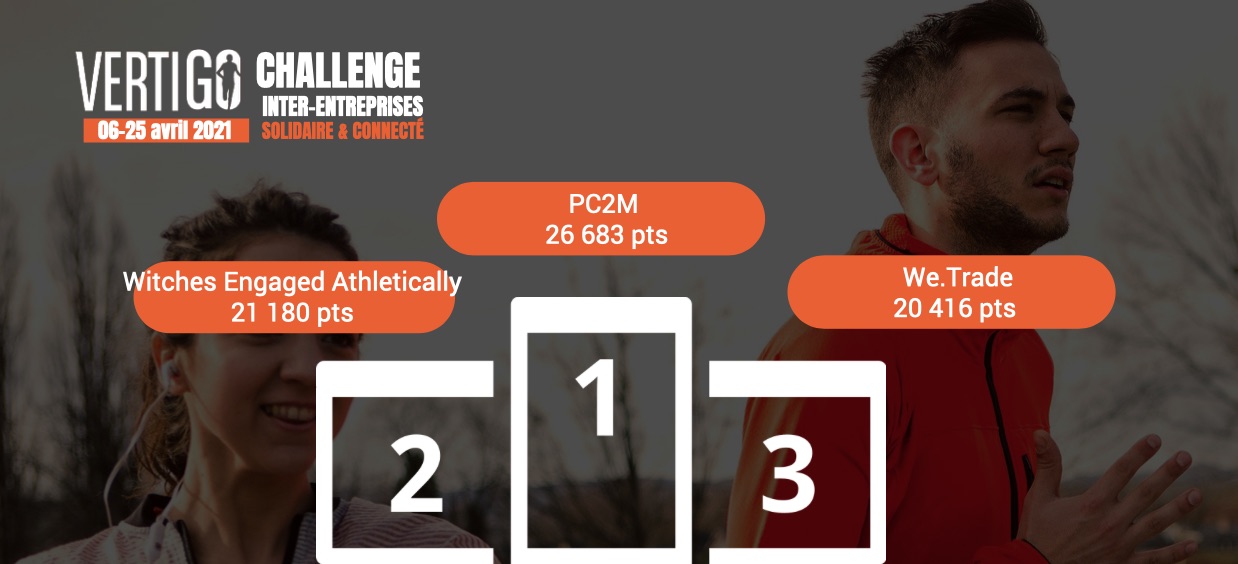 A special congratulations to the first 3 teams in the ranking: PC2M, Witches Engaged Athletically and We.trade, 3 teams from Société Générale GTPS.
Discover the vertigo challenge ranking
4 overmotive sponsors 
Yannick Borel
Yannick Borel, member of the French épée team, Olympic team champion in 2016, individual world champion in 2018, three-time team world champion, three-time individual European champion, has decided to commit to PLAY International :
"I am happy to be able to get involved again with PLAY International. I want to be more present with the association because I am convinced that sport makes it possible to imagine innovative solutions to address social issues and in particular by promoting social inclusion. It is important to be able to help all children through the values ​​of sport. Vertigo Challenge must shed new light on the NGO, while allowing participants to challenge themselves in their business. »Yannick Borel
He also challenged the participants with a mission: to carry out 75 minutes of activities while running! Indeed, WHO recommends doing at least 75 minutes of sustained intensity endurance activity per week, so put on your sneakers;)
discover again his message in video
Emilie Gomis
Emilie Gomis, international basketball player, European champion in 2009 and Olympic runner-up in 2012 in London was able to give 3 tips to be even more efficient during the Vertigo challenge for the benefit of PLAY International
Heureuse d'être marraine du Vertigo Challenge pour soutenir @pl4y ! Venez participer avec vos collègues et votre entreprise à ce défi sportif connecté, ludique et solidaire. 👉🏿 https://t.co/HppZzWpdVx #vertigochallenge @YannickBorel @pascalmartinot @PineauAllison @Sporsora pic.twitter.com/v3Qu5jHNtw

— Emilie Gomis (@emiliegomis) March 28, 2021
discover again her message in video
"I have been following PLAY International programs for several years. The Vertigo Challenge event, which had to be reorganized in a connected way, is important for the NGO and it also has a real social role within companies. So it was only natural that I accepted to be one of the sponsors in order to help PLAY. » Émilie Gomis
Pascal Martinot-Lagarde
Pascal Martinot-Lagarde, French athlete, European champion 2018, pre-qualified for the next Olympic Games, and current holder of the French record for 100 meters hurdles explains the benefits of sport for him. In particular, he gave courage for the last week of the Vertigo Challenge.
discover again his message in video
« I have known PLAY International for a few years and it was with pleasure that I accepted to be a sponsor of Vertigo Challenge alongside other committed athletes. At a time when the health crisis has a strong impact on the population and especially the youngest, it is important that PLAY International can continue its programs in France and abroad and help all children thanks to the impact of sport. I hope that companies and brands will respond in April and I will be there to motivate and challenge them.» Pascal Martinot-Lagarde 
Allison Pineau
Allison Pineau, French international handball player, world champion in 2017 and European champion in 2018, wanted to congratulate the participants and give a final boost for the last remaining days! She also took the opportunity to recall the cause supported.
👏 Je vs félicite pr vos efforts jusqu'ici 💪
Et je compte sur vs pr les derniers jours restants c'est désormais l'heure de tt donner pr @pl4y et cette 2ème édition du #VertigoChallenge 🚶‍🏃🚴‍ @PascalMartinot @emiliegomis @YannickBorel 👇https://t.co/V3wp0Dtj5Y

— Allison Pineau (@PineauAllison) April 23, 2021
«I want to get a little more involved with PLAY International, of course taking into account my news in the club and in the French team. In the field as soon as possible and in the meantime, I am delighted to form a "virtual" team with the 3 other PLAY ambassadors for Vertigo Challenge where I hope the companies will be there. We are expecting many of you for this challenge between colleagues and we hope that it can help the NGO after a difficult year. » Allison Pineau
testimonies
«I wanted to participate [in the VertigoChallenge] for 3 main reasons: to encourage me to move even more every day, to do it in a friendly way and as a team with my colleagues, and of course above all for the solidarity reach. It's great to think that by doing yourself a little good, you can especially give a lot more to children who need it. Thank you to PLAY International for this great challenge, and see you next time! » Siegrid,  LinkUp Factory  
«We are happy to participate in this second edition of the Vertigo Challenge. It was important for us to get involved in this fun challenge that promotes an active lifestyle and at the same time to support the actions of PLAY International. [Thanks to the challenge, we are] more fit than before! Indeed, this challenge stimulates us to do physical activity in a period when teleworking is a must at SPORSORA. Go for a walk in the morning before starting your work day, go out during your lunch break, cut off at 6.30 p.m. to go for a run before the start of the curfew ... this challenge helps to limit our sedentary lifestyle by encouraging us to plan daily physical activity ranges.» Sporsora Team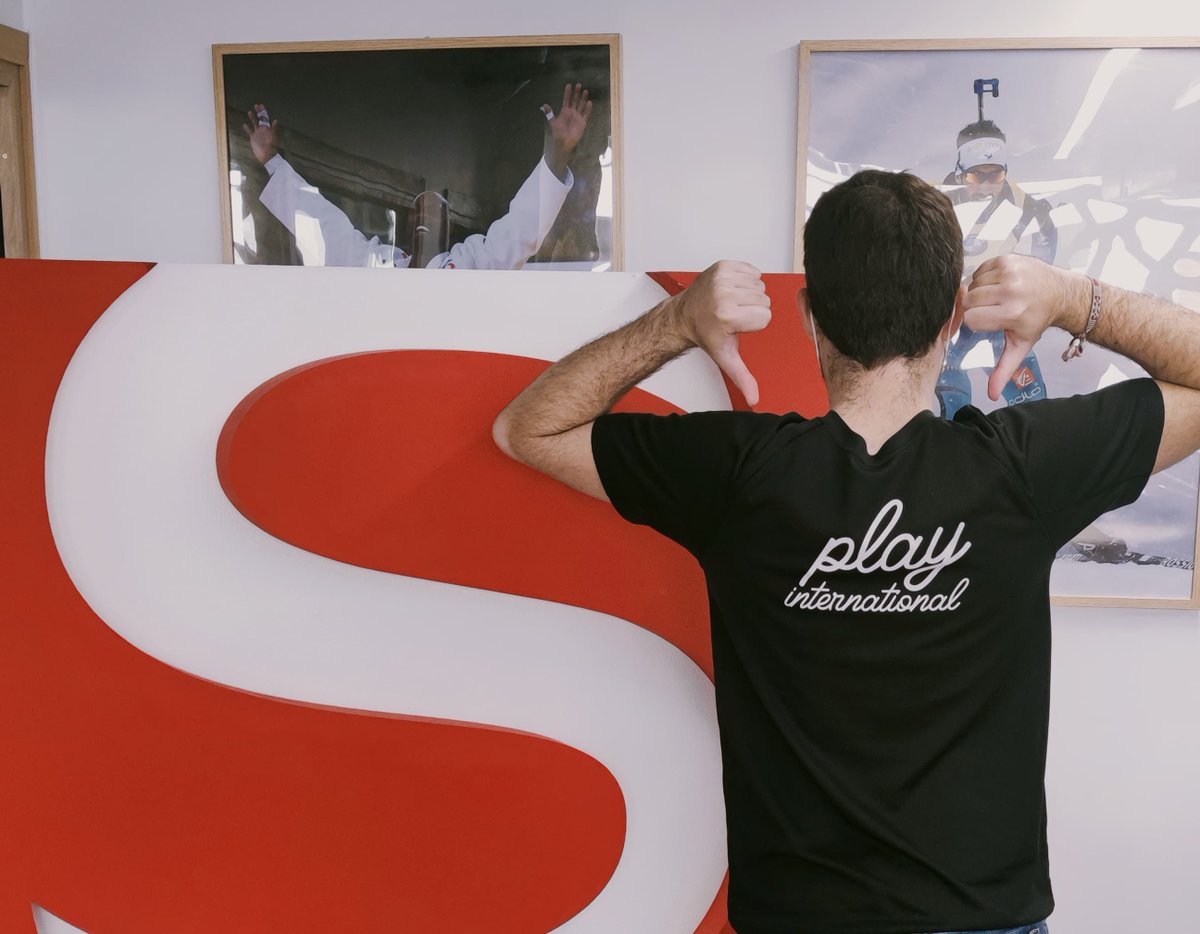 « Sport is part of my daily life but when it is mixed with solidarity objectives it takes on its full meaning. It is an international law and a real social and educational lever: I am proud that YCE Partners can contribute to these causes on its own scale. In times of health restrictions and the spread of teleworking, the Vertigo Challenge is a real breath of fresh air. It makes it possible to exchange views with colleagues in a different way, to energize internal teams and to rediscover those convivial moments that we miss so much, even from a distance. This allows us to create informal moments of real sharing that allow us to get to know each other better and to take up this great challenge together.» Eléa, YCE  Partners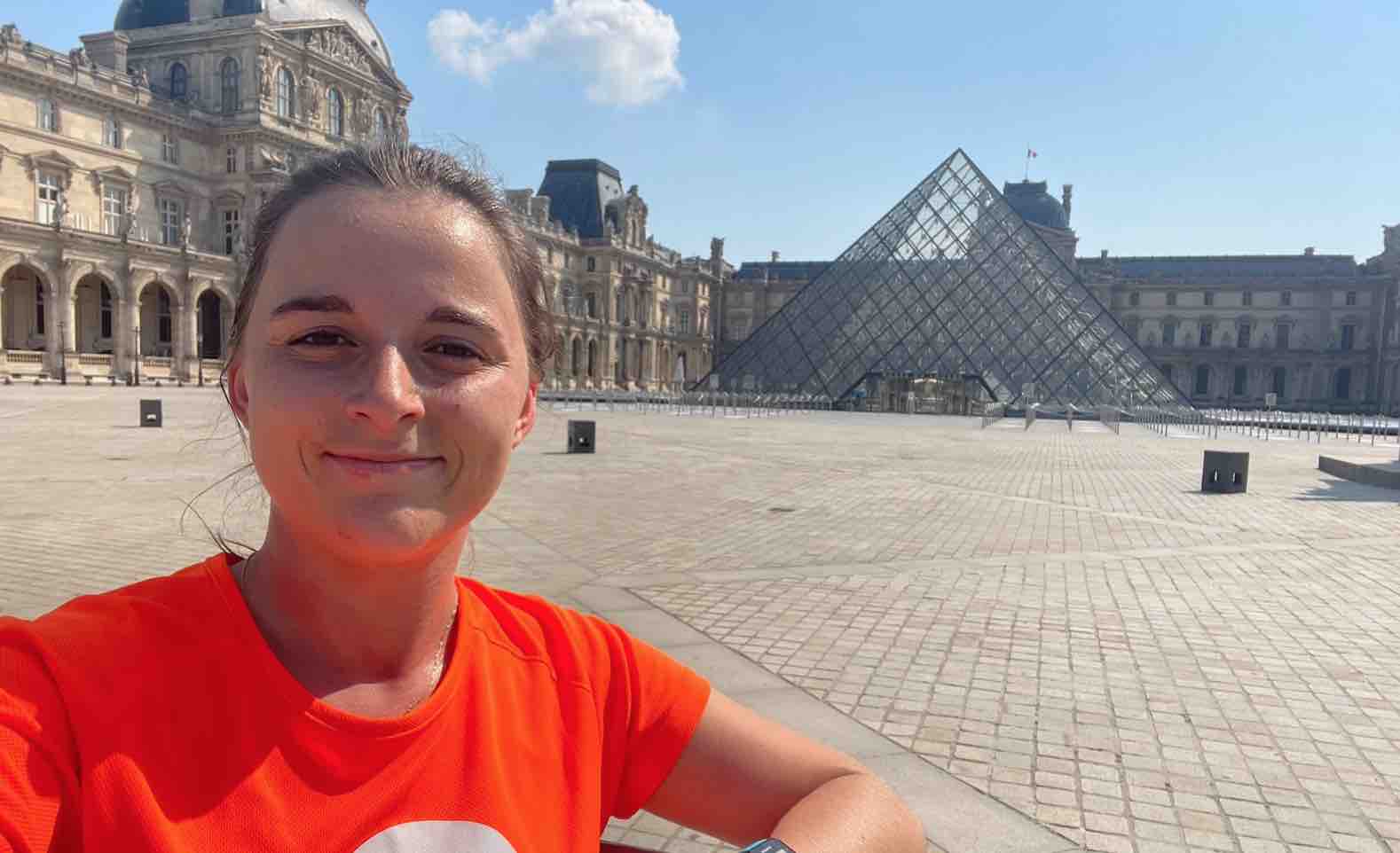 « With the curfew, I didn't have much time to go out, walk or run. On the way home, I asked my husband to put on his sneakers and we walked back and forth to our garage for 1 hour 40 minutes. Our neighbors must have thought we were crazy, but I managed to go past 21,000 steps that day ! » Béatriz, Société  Générale  
THE adventure report 
96% would like to participate in a new Vertigo Challenge. The participants especially liked the cohesion and team spirit as well as the challenges and missions that were offered to them during the 3 weeks of Challenge.
Thanks to the Vertigo Challenge :
77% of participants say they have done more sport than before.
87% of participants who did not practice sport or very little went back to doing it thanks to the Vertigo Challenge
93% of participants will continue to integrate sport into their daily lives
THE VERTIGO CHALLENGE PROVIDED to PARTICIPANTS:
more energy,
better cohesion,
a better mood,
a better working atmosphere.
PLAY wishes to the participants to stay active, keep a maximum of internal cohesion with its teams despite the difficult health situation and are counting on you to come back for next edition ;)
#VERTIGOCHALLENGE 
Impossible to escape it. It was everywhere! The hashtag #vertigochallenge has also reached the heights of mobilization. 
Il nous reste quelques heures pour clôturer 3 semaines à parcourir des milliers de kilomètres aux profits de l'association @pl4y.
Avez-vous entendu parler du #vertigochallenge?#ong #bonnecause Merci et bravo à Play International pour leurs actions en France et dans le monde pic.twitter.com/k9I5Nznvmq

— PLAYGONES (@playgones_fr) April 25, 2021
#LeSportEstEssentiel 🏃🏻‍♀️
Surtout pour soutenir @pl4y #VertigoChallenge avec les copines #PlayGirls @NadegeCOULET @Isa_Collette @samszwec pic.twitter.com/jq8AgEDsrI

— Gaëlle Millon (@G_Millon1982) April 18, 2021
L'équipe @Sporsora continue de se dépenser pour soutenir Play International @pl4y dans le #VertigoChallenge ! 🏃‍♀️🚴‍♂️

C'est la dernière ligne droite alors on se motive pour cette semaine sportive et solidaire 💪👟

Let's Go ! 🔥 pic.twitter.com/84ejfm3rM2

— SPORSORA (@Sporsora) April 21, 2021
Dernier jour du #VertigoChallenge avec un bon petit run ! Presque 60 km en 3 semaines pour @pl4y ✊🏼 @Fondation_SG pic.twitter.com/ENDrbEYt0J

— Sebastien de Cagny (@SebdeCagny) April 25, 2021
[#Engagement] En🏃,🚶ou à 🚴, avaler les Km, c'est le #vertigochallenge, un défi sportif & solidaire inter-entreprise relevé / 80 équipes Société Générale sur 3 semaines. Les km parcourus seront convertis en dons pour @pl4y partenaire de la Fondation. Déjà 40 000 km en 10 jrs !⤵️

— Societe Generale Group (@SocieteGenerale) April 16, 2021
🏃‍♀️Le #VertigoChallenge par Les🛒Fonceurs ?
Astrid: Téléphone partout avec moi, même pour un verre d'eau!
Angélique: Ma nouvelle passion, prendre l'escalier pour mon courrier!
Justine: J'ai sorti mon vélo de son hibernation😴
Etienne: J'ai un rappel à 18h, gare au couvre-feu! pic.twitter.com/wxla2NEGYn

— Fondation Carrefour (@Fonda_Carrefour) April 23, 2021
ACKNOWLEDGMENTS
PLAY International would like to thank all the participating companies who placed their trust in us: DCbrain, Fondation Carrefour, GROUPE SOS Ameo 77, InnovaFonds, Lafourmi, LinkUp Factory, Playgones, Prérequis, Société Générale GTPS, HRCO et COMM, Sporsora and YCE Partners. 
A big thank you also to Yannick Borel, Émilie Gomis, Pascal Martinot-Lagarde and Allison Pineau who have been involved alongside the NGO for several years and have motivated the participants thanks to their support videos.
Thank you to the 23 donors of the Vertigo Challenge fundraising page:
Juliette, Róisín, Vanessa, Marie, Christine, Arnaud, Stan, Geraldine, Raffaella, Michèle, Dominique, Nadine, Bénédicte, Jean-Philippe, Cédric, Mathieu, Delphine, Aude, Monique, René, Loic, Laetitia, Léa, Carine.  
A challenge carried out through the SquadEasy  application
You would like to be kept informed of the next edition? Or you want to set up a Vertigo Challenge in support of Play dedicated to your company ?